Dialysis Access
The most common treatment for chronic kidney disease or kidney failure is hemodialysis. One important step before starting regular hemodialysis sessions is to have a vascular surgeon prepare a vascular access, which is the site on your body where blood is removed and returned during dialysis.
Treatment Options
The three basic kinds of vascular access for hemodialysis are:
Arteriovenous (AV) fistula
AV graft
Venous catheter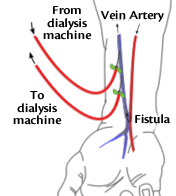 The AV fistula is considered the best long-term vascular access for hemodialysis because it provides adequate blood flow, lasts a long time, and has a lower complication rate than other types of access. If an AV fistula cannot be created, an AV graft or venous catheter may be needed. In this procedure, the vascular surgeon creates an access portal (arteriovenous fistula or graft) below the skin, usually in the arm; however, in certain circumstances, the leg may used instead. Both the creation of a fistula or graft for hemodialysis are minor outpatient surgical procedures and do not require an overnight stay in the hospital. Vascular surgeons at VSS have extensive experience in determining eligibility for hemodialysis access, type and location of the access, as well as placement and follow up care.
Public domain image released under the GNU Free Documentation License, Source: http://en.wikipedia.org/wiki/File:Radiocephalic_fistula.svg, Author: KBIK